Double scissor lift with 100 kg capacity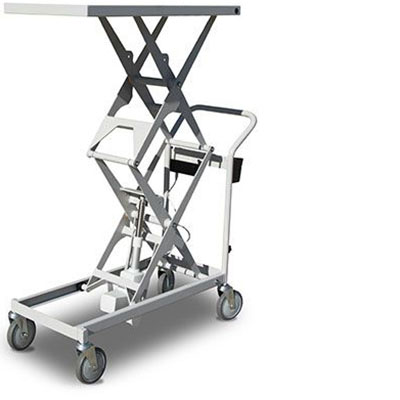 Load capacity

100 kg

Platform size
(L x W)

895 x 480 mm

Height range

505-1505 mm

Elevation time

20 seconds

Unit weight

50 kg

Castors

Large diametre, low friction, non-marking grey polyurethane castors.

x 4 swivel (one with total brake)

Shipping dimensions

1100 x 600 x 710 mm
(x 60 kg)

Order code

SLB100
Offering a 100 kg lifting force at the push of a button, the need for manual pumping is eliminated, providing a safe, clean, powered lift that is quiet and ideal when hydraulics can't be used.
The trolley uses a linear actuator (rated IP54) as the lifting mechanism, and a specially developed battery box that powers up to 150 lifts per charge. This eliminates hydraulic fluids or oils and provides a quiet, steady lift force. A high duty cycle, rechargeable battery supplies the power and a push button controller makes operating the DC Powerlift trolleys effortless to use.
Large diametre, low friction, non-marking grey polyurethane castors make the SLB100 trolley easy to move, highly manouverable and ideal for office or factory use.
The SLB100 is very safe to use but as with all scissor mechanisms, care must be taken to avoid any entrapment as it is operated.
Features
Highly manouverable and easy to move.

Push button control

Powder-coated for a quality finish.

High duty cycle, rechargeable battery.

Made in Australia.
Applications
Ideal for office or factory use, vets, medical clinics.

Suitable for applications where hydraulic contaminants can't be tolerated.

240V rechargeable 12V battery
Additional options