Battery-operated bin mover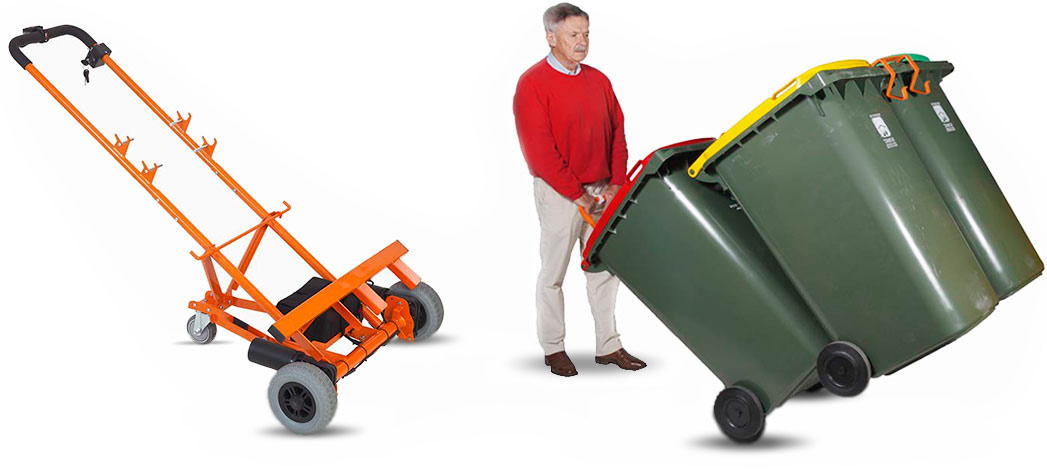 Move multiple bins at once
The WheelieSafe™ Heavy Duty Electric is designed for prolonged operation in non-residential environments. It has a 15ah heavy-duty battery set allowing operation for 90 minutes without recharging. The Heavy Duty Electric also comes with a second handling bracket, which makes it possible to handle four empty or lightly laden bins at a time.
The WheelieSafe™ Heavy Duty Electric eliminates the need for operators to push, or take any tilt load on their back and push a wheelie bin at the same time. It provides the motive power to move heavily laden wheelie bins, removing a major source of WH&S injury incurred in the handling of heavy and/or multiple bins. The WheelieSafe™ Heavy Duty Electric also has a tricycle undercarriage that takes the tilt load off the operator's back, eliminating another significant source of WH&S injury incurred in handling heavy bins.
The operator can relax, free to concentrate on controlling the speed and steering the unit safely. The WheelieSafe™ Heavy Duty Electric can also handle up to four lightly laden bins at once providing a considerable productivity advantage in the handling of multiple wheelie bins.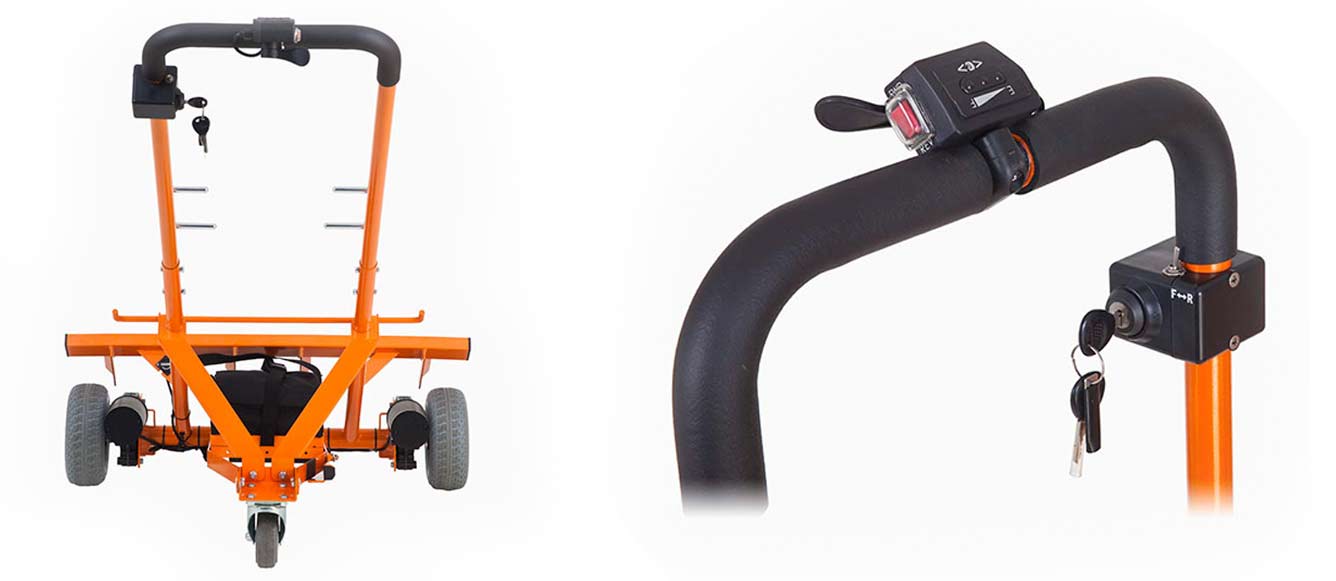 Features
Driven by dual 12v long-life sealed lead acid batteries mounted in series.

Continuous operation for up to 1.5 hours.

Battery charger (240v) and battery condition gauge.

Powered in forward and reverse.

Two speeds—slow and fast (up to brisk walking pace).

Emergency magnetic brake.

Failsafe braking—Gearing provides effective braking.

High quality pneumatic tyres and a dolly wheel for easy manoeuvring.

Folding stand for easy storage.

Free-wheeling hubs for manual movement when unladen to conserve battery power.
Typical applications
Ideal for moving bins around hospitals, educational, sporting and other institutional campuses. Also suitable for use on industrial/mining sites, at multiple residential developments, lifestyle and aged care facilities.
Specifications
Order code:

SIC1169

Battery:

Dual 12v x 15ah batteries.

Motor:

Dual 24-volt 180-watt electric motors operating through worm drives directly onto the axle.

Bin compatibility:

Two sets of loading hooks are provided, an upper set and a lower set.

The lower set is designed for loading small bins (eg. 120 or 140 litre). The upper hooks for loading larger bins (eg. 240 litre and some 360 litre bins).
A versatile bin mover, it can be used in multiple ways including: Moving one bin from any side; Two bins piggy backed; Two bins abreast; Three bins; Four bins.
---
WheelieSafe™ trolley adaptations
WheelieSafe™ trolleys have proved themselves to be a fantastic basis for further adaptations and modifications for our customers needs. Here are some examples of how our trolleys have been modified for different purposes.
Street vacuum cleaner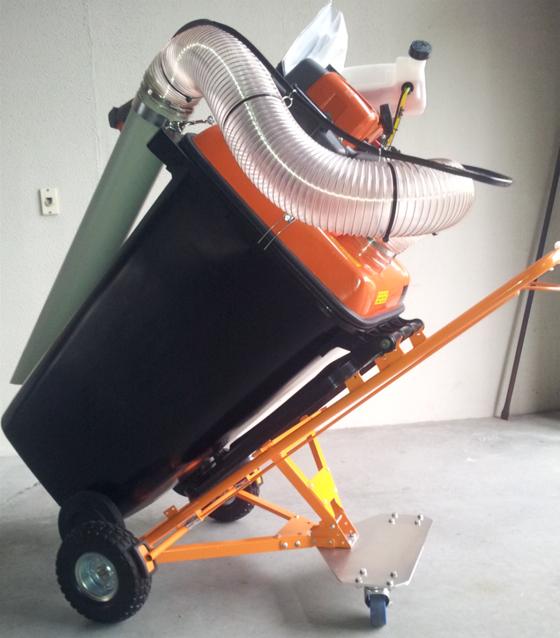 Applied Cleansing Solutions of Noble Park in Melbourne adapted the WheelieSafe™ Dolly Trolley to lift and carry their 240L bin-mounted street vacuum cleaner. Prior to the adaptation of the WheelieSafe™ Dolly Trolley the company used a four-wheeled platform with a loading ramp and towbar, which was both heavy and cumbersome to operate.
The ability of the Dolly Trolley to load the bin mounted machine and to provide an easy means of moving it as the cleaning process proceeded greatly enhanced the efficiency and effectiveness of the machine.
---
Stackable chair transport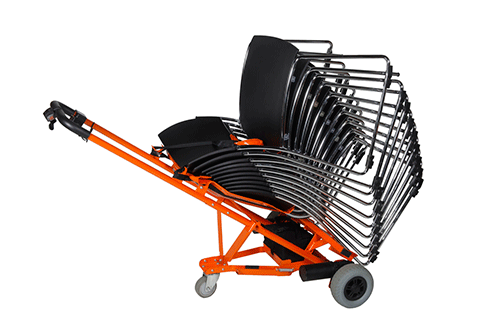 WheelieSafe Pty Ltd developed a simple sling for a client faced with moving large numbers of stackable chairs in and out of an auditorium.
The WheelieSafe Dolly Trolley can carry up to nine stackable chairs at once which is a considerable improvement on the ability of a single person.
Possibly more important, trolley transport removes the risk of wrist and forearm injury present when moving chairs by hand.
The sling can be adapted to carrying a wide variety of stackable chairs.
---
Crate carrier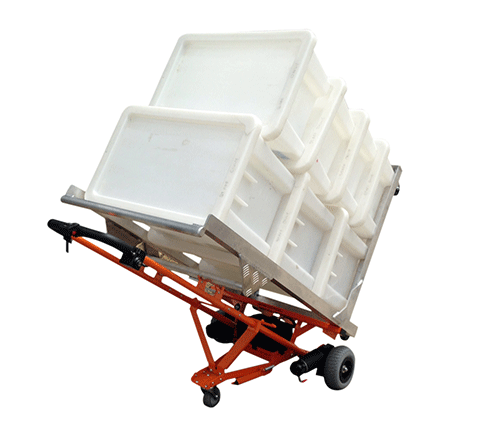 Tathra Beach House in Southern NSW adapted the WheelieSafe Electric Bin Trolley to picking up laundry crates from around their site and moving them to the laundry. The 'L'-shaped frame mimics the rear of a 240L bin, which allows the trolley to load the frame as it would a bin.
The frame can carry up to seven laundry crates. When not in use carrying crates the frame can be parked leaving the WheelieSafe Electric free to perform its intended function of transporting up to four wheelie bins at a time to kerb.
The trolley operates in forward and reverse and its powerful twin 12v, 180W motors can move loads exceeding 100 kg up steep slopes. The trolley has two speeds and an emergency braking system.
With the addition of a simple WheelieSafe™ Sling, the trolley can move stackable chairs nine at a time with ease.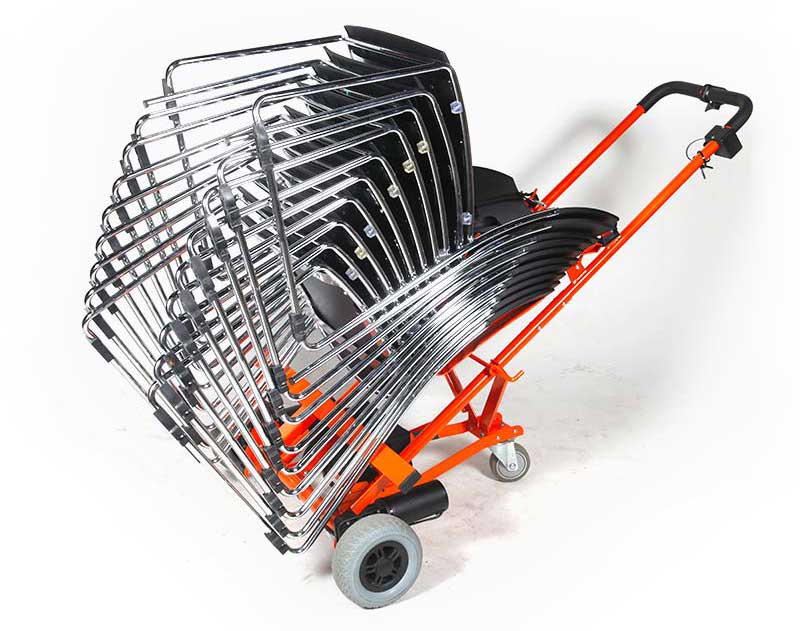 ---
About WheelieSafe™
The WheelieSafe™ Wheelie Bin Trolley is an Australian invention.
The WheelieSafe™ Trolley is the creation of Tasmanian entrepreneur and inventor, Brian Stafford. Brian realised that whilst wheelie bins have multiplied residentially and expanded into a wide range of industrial environments (with OH&S implications), their design has not developed or evolved to meet the needs of these new applications. He also realised that there was a need for an affordable management system that allowed for safer, quicker handling of multiple wheelie bins, both in residential and industrial situations.
Three years of design development went into the creation of the WheelieSafe™ system. Hobart based Industrial Designers INNOVATAS were commissioned to develop the design of the trolley system and source a cost effective manufacturer. The result is a unique product that can service DIN standard refuse bins of differing sizes and manufacturers worldwide.
WheelieSafe™ Pty Ltd is an independent product development enterprise specialising in waste and recycled materials handling.
WheelieSafe™ is a registered trade mark. WheelieSafe™ products are protected by patent applications and it is our goal to licence our products worldwide.