Multi-purpose tub trolley
Large moulded-plastic bulk-laundry multi-purpose poly tub trolley
POLYTUBLARGE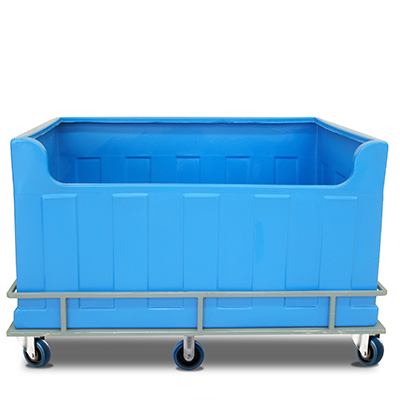 Features at a glance

Body

100% LDPE (low density polyethylene) recycled material

Castors

Fallshaw 125 mm blue high-resilience rubber wheel with zinc fork.

Dimensions
(L/W/H)

1000/1510/810 mm
Note: Height does not include the wheels.

Unit weight

61 kg

Order code

POLYTUBLARGE

Colours

Custom colours are available on request
Large mobile tub for lifting and moving heavy loads
Features
This large moulded-plastic, multi-purpose poly tub trolley is made from impact resistant polyethylene.
Fitted with Fallshaw castors, it has 360° maneuverability, making it ideal for moving and lifting heavy loads. Lightweight and rust-free, it is suitable for commercial linen or bulk laundry deliveries.
Fitted with quality Fallshaw castors—two fixed and four swivel castors—this tub is easy to manoeuvre and can withstand harsh and regular usage.
Benefits
Rust free

Light weight

Impact resistant

Low noise operation

Easy to manoeuvre

Fully recyclable body

Customisable colours—to suit your branding

Three-year warranty on the body and the Australian-made Fallshaw castors.
Specifications
Body material: Polyethelene

Shelf material: PVC

Base frame: RHS galvanised

Fasteners: Galvanised (stainless steel is available)

Castors: Australian-made heavy-duty Fallshaw castors—constructed from blue high resilience rubber with roller bearings.

UV stabilised for Australian conditions.