Multi-purpose poly bin
Poly tub with optional forklift attachment
POLYBIN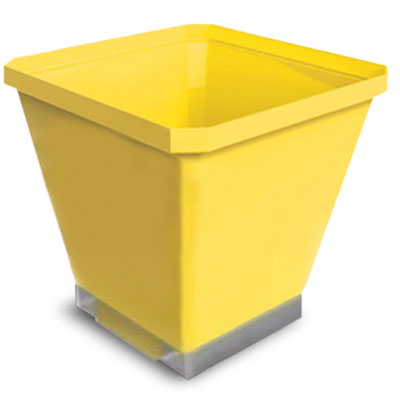 Features at a glance

Body

100% LDPE (low density polyethylene) recycled material

Dimensions
(L/W/H)

930/1125/1125 mm
Note: Height does not include wheels.

Weight

32 kg

Order code

POLYBIN

Optional accessories

Forklift attachment

Castors

Fallshaw 125 mm blue high-resilience elastomer wheel with zinc fork.

Colours

Custom colours are available on request
High-volume multi-pupose poly bin
Features
This high-volume, multi-purpose plastic-moulded bin is strong, durable and impact-resistant.
Suitable for storing and transporting goods.
Options
Optional castors are available. We recommend two fixed and two swivel castors with total brakes for easy steering and manoeuverability. The Australian-made Fallshaw castors are heavy duty, constructed from thermoplastic elastomer with precision bearing and can withstand harsh treatment.

Available is an optional forklift attachment.

Food-contact regulation-approved material is also available.
Benefits
Rust free

Light weight

Impact resistant

Ergonomic and easy to manoeuvre

Fully recyclable body

Customisable colours—to suit your branding

Three-year warranty on the body and the optional Australian-made Fallshaw castors.
Specifications
Body material: Polyethelene

Base frame: RHS galvanised (or stainless steel)

Fasteners: Galvanised (stainless steel is available)

UV stabilised LDPE for Australian conditions.