Scaffold castor wheels
Australian standards compliant castors for scaffolding
H Series: Fallshaw castors
Heavy duty Fallshaw castors designed to meet OHS codes and Australian standards for scaffolding with a load capacity up to 500 kg.
Features
OHS codes and Australian standards.

Castors are branded with makers name, and safe working load.

Supplied with a test certificate validating compliance to Australian Standards (important for risk management documentation).

The static collapse load exceeds three times the working load.

Wheels 150mm and 200mm diameter will safely pass over obstacles without snagging and causing scaffold to tip.

The stem of the castor is 150mm long, with not more than 3mm of clearance to tube.

An effective wheel/swivel brake is fitted to ensure maximum stability.

Three year warranty.

Made in Australia.
Fallshaw scaffold castor range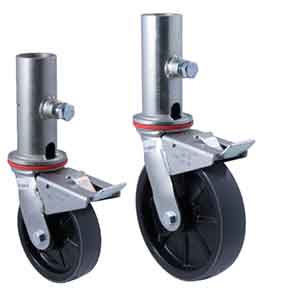 Mount type

Wheel diameter (mm)

Max load (kg)

Castor code

Mount code

HUR wheel in zinc plated fork with 51 mm socket mount to fit over tubes.

150

360

HUR150/ HZHTB

SC08

200

500

HUR200/ HZHTB

SC13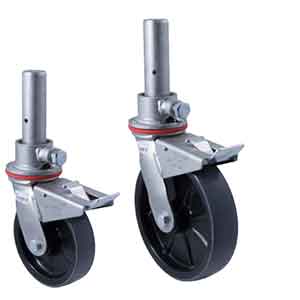 Mount type

Wheel diameter (mm)

Max load (kg)

Castor code

Mount code

HUR wheel in zinc plated fork with 38 mm solid stem with fully welded cup.

150

360

HUR150/ HZHTB

SC62

200

500

HUR200/ HZHTB

SC15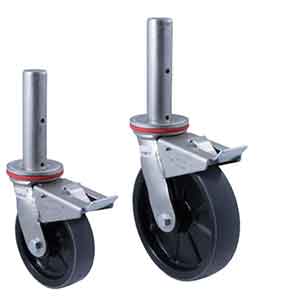 Mount type

Wheel diameter (mm)

Max load (kg)

Castor code

Mount code

HUR wheel in zinc plated fork with 38 mm stem mount to fit into tubes.

150

360

HUR150/ HZHTB

SC30

200

500

HUR200/ HZHTB

SC11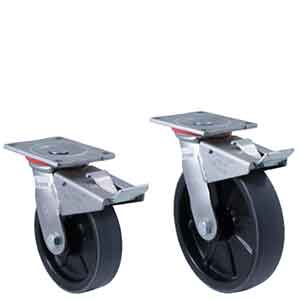 Mount type

Wheel diameter (mm)

Max load (kg)

Castor code

Mount code

HUR wheel in zinc plated fork with ISO plate (130 x 100 mm).

150

360

HUR150/ HZHTB

SC61

200

500

HUR200/ HZHTB

SC18