Pneumatic wheels
Puncture-proof, plastic-centred and steel split rim wheels.
Ranging from 50-360 kg load capacities.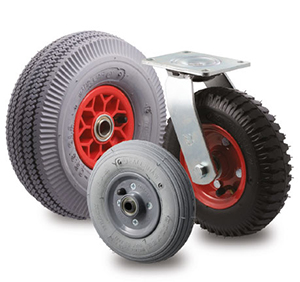 The range includes puncture-proof wheels, plastic-centred tube type wheels, steel "split rim" tube type wheels.
Made in Australia.

12 month warranty.
Maximum load capacity
Each wheel can carry the recommended load capacity at walking pace—8 km/h. If you are intending to tow your load, it is recommended that you do not exceed 15 km/h, while carrying half the recommended load capacity.
Maximum inflation
Do NOT inflate over recommended tyre inflation pressure (30 psi).
Do NOT allow tyre pressure to drop below 20 psi or wheel may deflate and become very difficult to re-inflate. If you allow the tyre to go flat and you are unable to re-inflate it then you may need to buy an inner tube to be retro fitted to the wheel.
Visit: Spares for pneumatic and general wheels for more information.
Note: Use of pneumatic wheels other than as recommended can be dangerous.