---

Trinity EBC (electronic braking castors)
Automatic braking for hospital beds

Steer from both ends of the bed

Push button and foot pedal control
Electric Brake Control improves safety and makes it simple to lock and control the bed.
It has been reported that in the 65+ age group, fall rates are as high as 12 per 1000 bed days.
Patient falls carry additional risk of injury to the patient, but also an increase in associated costs to the facility. However, many of these falls can be prevented.
Leading health organisations recommend: "Make the environment safe by ensuring that the bed is at the appropriate height for the patient and the wheels and/or brakes are locked when the bed is not being moved". *But it's easy to forget to apply brakes when you're under pressure. Automatic braking prevents falls due to unlocked brakes.
*Preventing Falls and Harm From Falls in Older People. Best Practice Guidelines for
Australian Hospitals, 2009
Design features
Automatically applied brakes (reduce cost of falls due to brakes being unlocked) – brakes apply after 30 seconds of nonmovement (programmable).

3 brake positions (directional lock, total brake & free (swivel) can be applied using the pedals or the handset (whatever is easier and more intuitive for the user).
Bed can be easily steered from both directions with flexible directional lock:
Steer from the head end

Steer from the foot end
In the event of a flat battery, castors can be controlled manually (individually) with pedal operation of all functions – Brake/Steer/Free

Integrated controls with handset or bed control panel

Visual indicator light to show status of brake

Extra low bed height achievable

Design freedom – no need to accommodate traditional transfer bar

Low current draw ensures long battery life Watch the demo video:
www.fallshaw.com.au/castors/specialised/electric_brake_castors
Standards compliance
Designed to comply with:
• IEC60601 3rd edition including IEC 60601-2-52 Particular Requirments for the Basic Safety
and essential Performance of Medical Beds.
Note: all Trinity castors pass the "threshhold test" (even the 100mm (4") size)
Trinity EBC is compatible with LINAK controllers and handsets. Other controllers are also possible. Fallshaw supplies the castors (incorporating motion sensing & servo control units).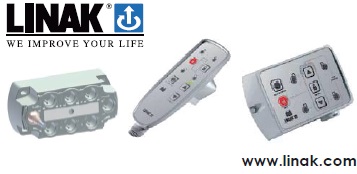 ---

Trinity castors come with manually operated pedals and TrinityEBC castors can also be electronically operated.
Fixed brake position: The brake pedal does not swivel with the castor so it is always within easy reach

3-in-1 brake

The advanced braking mechanism provides 3 brake functions with soft touch actuation: Total brake, Directional lock and swivel (free)

Ultra-short swept radius

At 78mm (100mm version), the swept radius is ultra small and eliminates trip hazards

Inovative Patended Design

USA Patent US8202297B2

European Patent 2164715

Australian Patent 2008258348
Standards compliance
Designed to comply with:
IEC60601 3rd edition including IEC 60601-2-52
Particular Requirements for the Basic Safety and essential Performance of Medical Beds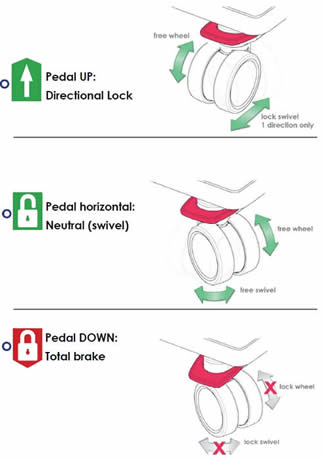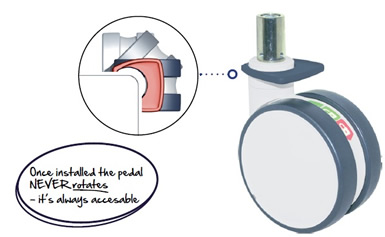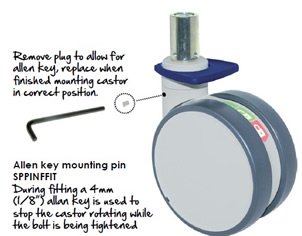 ---
'Natural Directional Lock' (NDL) castorsmake steering easy

Fallshaw 'Natural Directional Lock' (NDL castors are designed specifically to resolve hard-to-steer trolleys and eradicate confusing directional lock systems.
The NDL castor intuitively locks the castor from swivelling when travelling in a forward motion. A simple motion (reversing by a few millimetres – something that people do intuitively) then releases the swivel lock allowing the trolley to be fully manoeuvered in any direction.

There is no other similar product on the market. The castor design is patented (Patent number: AU2005237657).

When the wheel is travelling forward, the rocker moves the tooth up into the slot.

When the wheel is travelling backward, the rocker moves the tooth down out of the slot.

From a user-perspective none of this matters! The Natural Directional Lock castor is intuitive to use - customers 'feel' how to use it without being taught. They naturally figure it out within about 30 seconds. And from then on the trolley is 'magically' easy to steer and push...
NDL Configurations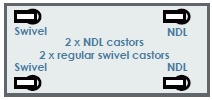 1. Mount two NDL castors at one end of the trolley and two regular swivel castors on the other end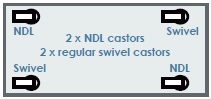 2. Mount two NDL castors on directional opposites for bi-directional performance.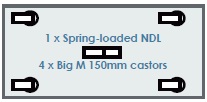 3. Mount one springloaded NDL castor as a fifth wheel with swivel castors on all four corners of the trolley