Custom manufactured lift tables
Industrial lift tables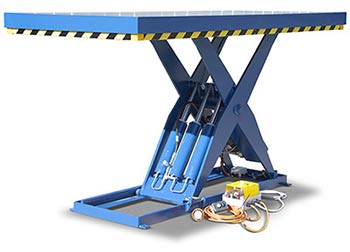 Hydraulic lift platforms
Our hydraulic lift tables are adaptable and can be custom-made to suit your needs. Designed for safety and are offered with an extensive range of capacities, features and options to provide your factory or warehouse with safe and efficient lifting and work positioning.
Smartlift controls are supplied as standard across the range, providing automatic down-indexing, electronic diagnostics and enhanced safety features.
Manufactured in Australia.
Features and options:
Smartlift controls.

Available with manual turntables to rotate the load. Available with high cycle capacity.

Available with safety bars or skirts to protect operators.

Can be adapted for use as personnel lifts, fabrication bench, or assembly bench.

Can be customised with multiple hand or foot controls, automation, on-board power outlets, or interlocks with associated equipment.

Designed to exceed industry safety standards.

Made in Australia.
Typical applications
Custom made to order: These lift tables are custom manufactured to suit your criteria (with a 6 to 10 week lead time).
In order for these units to be quoted to you correctly, we need to gather a comprehensive list of information from you to ensure you have the right unit for the right application, including the following:
Capacity of lift table
Platform size
Vertical travel
Extended height
Minimum height (if critical)
Type of environment unit will be working in (for example: Outside, factory, cold room).
Will the load be evenly distributed?
Do you require foot switch controls or a hand pendant control?
Is a safety concertina skirt required?
Do you have access to both 240 Volt and 3 phase power?
Will you be loading the lift table with a forklift or pallet truck?
Will personnel be riding on the platform?
How many starts per hour will the unit require?
How many full cycles per hour? (every up cycle is a motor start, full up and down cycle).
Will the lift table be working in conjunction with your machinery?
Do you require the lift table to move up and down in small increments?