Tilting Drum Stand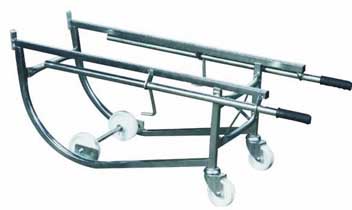 Product code:
NF10
Load capacity
250Kg
Suits drum size:
210 Litre
Unit weight:
14.5Kg (supplied flat packed)
Castors:
100mm diameter x 35mm wide white nylon, swivel bolt hole
Wheels
125mm diameter x 35mm wide white nylon
Features:

When stand is in the horizontal position, handles can be retracted.
Plastic hand grips assist operator when drums are being loaded or transported

Drums can be decanted from horizontal position

Description:
Tilting Drum Stand
Drum Dolly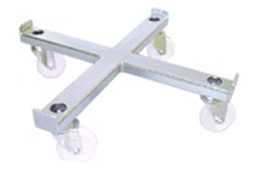 | | |
| --- | --- |
| Product code: | DD205 |
| Load capacity | 225Kg |
| Suits drum size: | 200 Litre |
| Inside diametre of rim: | 605mm |
| Castors: | Four x 75mm black nylon swivel nylon castors (Fallshaw brand) |
| Construction: | Mild steel, gal painted finish, made in Brisbane |
| Features: | 205 litre drum sits upright in dolly. Dolly can be wheeled around sorkshop floors with ease |
| Description: | Steel drum dolly |
Drum Handling Forklift Attachments
SDL1 Drum Lifter
Designed for standard 205 litre steel drums, the fully automatic clamping action enables safe and precise placement of drums without the operator having to eave the drivers seat. The drum is gripped by pusing the arms against the drum centre and driving forward with the forklift. The The arms will engage around the drum and lock under the rolling hoop when raised. The heavier the load, the tighter the grip. To release, lower the drum onto the ground and continue to lower the forks whilst reversing the forklift. the SDL2 will handle either a single drum or two drums. Zinc plated finish.
| | | | | | | |
| --- | --- | --- | --- | --- | --- | --- |
| Code | | SWL | Fork pocket centres | Fork pocket size | Load centre | Unit weight |
| SDL 1 | 1 | 500Kg | 325mm | 165mm x 65mm | 1340mm | 62Kg |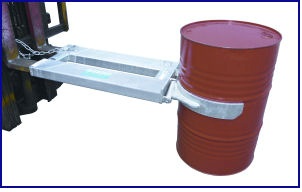 BGN Drum Lifters
Drum handling made easy. A good field of vision allows the operator to continually observe the drums being handled. The operator does not leave the drivers seat. The unique beak design provides a high clamping force, even when travelling over uneven ground. Suitable for standard 205 litre steel and plastic drums and available as a single or a two drum unit. A contoured rest acts at a point low enough down the drum to prevent damage to the drum and its labelling. Zinc plated finish.
| | | | | | | |
| --- | --- | --- | --- | --- | --- | --- |
| Code | | SWL | Fork pocket centres | Fork pocket size | Load centre | Unit weight |
| BGN 1 | 1 | 1000Kg | 250mm | 185mm x 60mm | 1210mm | 72Kg |
| BGN 2 | 2 | 1500Kg | 600mm | 185mm x 60mm | 1250mm | 95Kg |

DL1000 Drum Lifter
The DL1000 is the safest drum lifter available, with the drum being transported with 100% security. The drum is secured by a chain belly strap which is operated by an eccentric lock, which is then also secured by an additional securing pin. Zinc plated finish
| | | | | | | |
| --- | --- | --- | --- | --- | --- | --- |
| Code | | SWL | Fork pocket centres | Fork pocket size | Load centre | Unit weight |
| DL1000 | 1 | 1000Kg | 335mm | 165mm x 65mm | 1160mm | 60Kg |